Four Burns Charest Attorneys Named to List of Nation's Top Plaintiff Financial Lawyers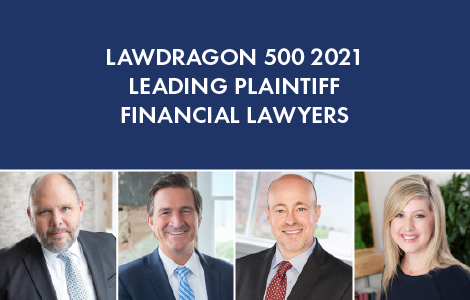 The Lawdragon 500 Leading Plaintiff Financial Lawyers Guide has recognized four Burns Charest attorneys on the prestigious list for 2021.
Lawdragon selects honorees through nominations, research, and review by a distinguished board of other top attorneys from across the nation. These 500 lawyers "are the best in the nation . . . at representing plaintiffs in securities and other business litigation, antitrust, whistleblower claims and increasingly complex financial litigation and privacy invasions." The criteria for making this list falls within Burns Charest LLP's practice areas.
"I am exceedingly proud to have four Burns Charest partners selected in Lawdragon's 500 Leading Plaintiff Financial Lawyers," says co-founding partner Daniel Charest. "I believe this group reflects the top-to-bottom strength of our firm and highlights our team's perseverance as we navigate an ever-changing financial market on behalf of our clients."
The Burns Charest attorneys selected to this year's list are below:
The complete list and additional information is available here: Link.