Daniel Charest Named "Litigation Star" by National Legal Guide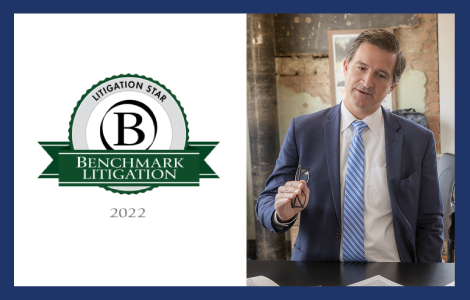 For the second consecutive year, trial attorney Daniel Charest, co-founder of Burns Charest LLP, has earned recognition as a "Litigation Star" by the Benchmark Litigation guide to the nation's top lawyers.
Charest was named among the leading attorneys in Texas in recognition of his commercial litigation practice as well as the representation of plaintiffs in mass and class actions.
The definitive guide to the world's leading litigation firms and lawyers, the 2022 edition of Benchmark Litigation is the culmination of months of peer-review and client-based research and a review of attorney casework. The publication provides law firm and lawyer rankings based on extensive interviews with litigators, dispute resolution specialists, and their clients as well as analysis of the market's most important cases and firm developments.
This recognition results in part from Charest's work as lead trial counsel in securing a landmark win for thousands of Houston-area property owners before the U.S. Court of Federal Claims. The court held that the United States is liable for flooding and property damage caused by the Army Corps of Engineers' management of Houston-area reservoirs during Hurricane Harvey in 2017. Charest was recently proposed as "counsel of record" for a proposed class to be certified in that same action.
Among other significant victories leading to this recognition, Charest served as co-lead counsel in reaching a $52 million settlement on behalf of a multistate class alleging that Facebook failed to properly support and care for content moderators, who frequently suffer psychological damages from monitoring violent and unlawful activity posted on Facebook. Meanwhile, Charest serves as class counsel for three certified classes of detained immigrants in their lawsuit against a private-prison operator.
Particularly active in energy-related litigation, Charest obtained an international arbitration ruling in favor of the firm's client, Dallas-based Kosmos Energy, which secured deep-water drilling rights off the coast of Africa and resulted in a multimillion-dollar award. In addition to the London arbitration, Charest led related litigation involving subsidiaries in Houston. That trend has continued with Charest representing a London-based offshore operator relating to deep-water drilling off the coast of Africa. And Charest leads litigation relating to the acquisition of an oil refinery in Trinidad.