Charest Discusses Addicks Barker Litigation on "Keep It Legal" Podcast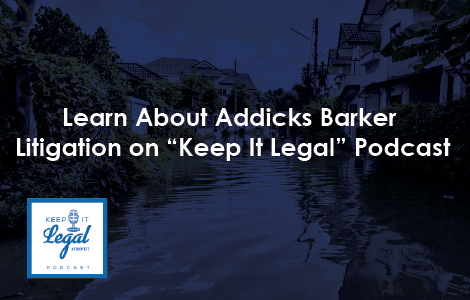 The firm's Daniel Charest is featured on a recent "Keep It Legal" podcast on the status of the litigation against the U.S. Army Corps of Engineers for the unlawful taking of property resulting from Hurricane Harvey flooding. The class action involves thousands of property owners upstream from the Addicks and Barker reservoirs in Harris County. Daniel served as the lead attorney in gaining a judgment establishing the Corps' liability, and in a recent bellwether hearing that returned more than $450,000, plus interest, to six affected property owners.
On the podcast, Daniel points out the need for any affected property owners to retain counsel before an August 2023 deadline to join the class.
http://insideaddicksbarker.com/