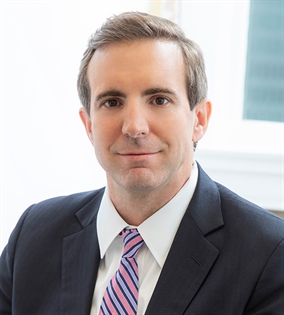 Spencer Cox is widely recognized as a top-notch litigator specializing in complex litigation involving antitrust, mass tort, commercial, and class action lawsuits in both state and federal courts. Spencer provides world-class representation to his clients through an unwavering commitment to excellence and professionalism.
Before dedicating himself to law, Spencer served as a Naval Aviator and flight instructor in the F/A-18 Super Hornet, logging more than 400 arrested carrier landings. As a fighter pilot, Mr. Cox learned the importance of attention to detail and leadership, demonstrating a knack for performing best when the stakes are highest. As an attorney, he understands the importance of focusing the strengths of your case against an opposing party's weaknesses in order to win.
Spencer brings many of the skills he honed in the Navy into the courtroom today, always pairing long-term strategy with an intense focus on details to achieve the larger mission.
Education
University of Virginia, B.A., Physics
Harvard Law School, J.D., magna cum laude
Law Clerk to the Honorable F. Dennis Saylor, IV, of the United States District Court for the District of Massachusetts
Honors & Admissions
2022 Outstanding Antitrust Litigation Achievement by a Young Lawyer (In re EpiPens)
2022 Outstanding Antitrust Litigation Achievement in Private Law Practice (In re EpiPens)
Texas Super Lawyers, Rising Star 2019-2023
Best Lawyers Ones to Watch 2023-2024
Best Lawyers Ones to Watch 2023-2024
Lawdragon 500 Leading Plaintiff Financial Lawyers 2023
Lawdragon 500 Leading Plaintiff Consumer Lawyers 2023
Lawdragon 500X - The Next Generation 2023
District of Columbia
Texas
Virginia

Engagements
Virginia Trial Lawyers Association
Richmond Bar Association
John Marshall Inn of Court
Dallas Bar Association
The Mineral Rights Podcast, Episodes 13 & 53
Representative Cases
Represented a certified nationwide class of plaintiffs in a federal multi-district litigation in an antitrust and racketeering class action over the rising prices of EpiPen injectable devices. In re EpiPen Marketing, Sales Practices and Antitrust Litigation, No. 2:17-md-02785-DDC-TJJ (D. Kan.). Received recognition from the American Antitrust Institute for "Outstanding Antitrust Achievement by a Young Lawyer" and "Outstanding Antitrust Litigation Achievement in Private Law Practice."
Represents Hospital Plaintiffs in complex litigation in multiple venues for claims against pharmaceutical manufacturers, distributors, and pharmacies for the alleged inappropriate marketing, distribution, and dispensation of brand and generic opioid drugs.
Represents hundreds of women who allege they developed ovarian cancer as a result of using defendants' talcum powder products. In re Johnson & Johnson Talcum Powder Products Marketing, Sales Practices, and Products Liability Litigation MDL (D.N.J.).
Represented a group of investment funds and owners of the royalty rights to thousands of leases in a complex multi-district litigation against one of the world's largest natural gas producers. In re: Chesapeake Barnett Royalty Litigation #2, MDL No. 96-000003-15 (96th District Court, Tarrant County, Texas).